XnView is a great FREE image viewer. It comes to us from France. Who says the French can't write good software? Hmmm…maybe nobody…I just heard it somewhere :) . I have tried many free image viewers and photo organization software and found only a few decent ones. Commercial software is somewhat better but you can find FREE software that works the same sometimes better than commercial software. XnView is one example of FREE image viewers that works great.
Quick Feature List
Here are a few features that I found very useful:
Directory Tree direct view
Bulk renaming
Cropping
Image Resizing
Red-eye reduction
Support for IPTC keyword insertion
U3 version available (if you don't know what U3 is, then you don't care).
Well, you find these in just about any image viewer and yes it's true…however, this program is very fast and very simple to use…just check it out.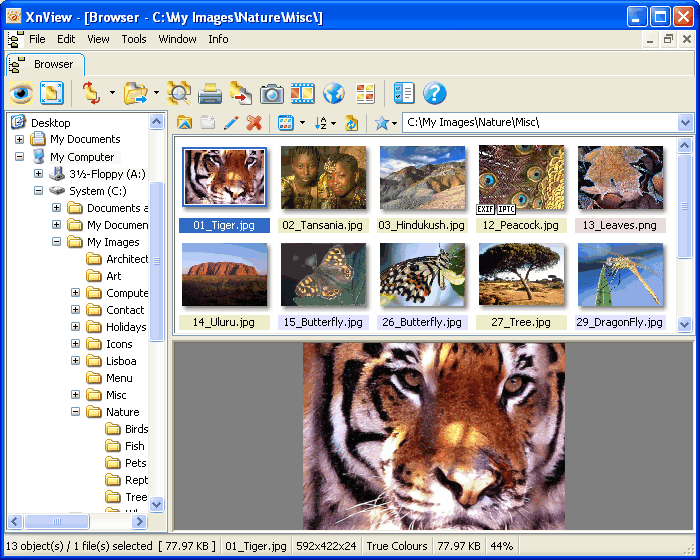 What I like about XnView
No need to import folders. You just open your folder structure and you see your pictures.
Images appear in tabs which makes for easy navigation
Very easy to use tool for removing red-eye
Support for viewing videos
Screen capture tool
What I don't like about XnView
The cropping tool is very inefficient. You do see how much you're cropping but you can't specify the exact dimensions of the window you want to crop.
Thumbnails are somewhat slow to appear.
Right-click menu is very hard to get it to show up. I have to click multiple times. My mouse has to be completely still when I press the right button.
Support for email is limited to using your local client. Doesn't support exporting to a zip file or just making smaller copies of the pictures.
Conclusion
Out of the many FREE Image Viewers available, XnView deserves a good look. Even though I have some reservations about its user interface I do believe it's worth trying. If you really need support for IPTC keywords, then this is only one of the few FREE Image Viewers that support this standard.
Resources
Start organizing now using detailed, step-by-step instructions and videos:
Personal Coaching (closed) Private Lessons Independent Course
Reference book Basics book Picasa book