Is there a great Image Viewer out there…one that is simple to use and…FREE? I believe there is…it's called Fast Stone Image Viewer. I have tried many image viewers and photo organization software and found only a few decent ones. Out of all the ones I have tried, FastStone Image Viewer is really the best! This article outlines the features of this great program.
1. Quick Features list
Here are a few features that I found very useful:
Directory Tree direct view
Support for transferring images from camera – (very flexible)
Very easy to use interface
Fast navigation – (great keyboard shortcuts)
Bulk renaming – (with regular expressions support)
Cropping
Image Resizing – (bulk resizing available via the E-mail function)
Red-eye reduction
Simple but efficient image editing capabilities
Well, you find these in just about any image viewer and yes it's true…however, this program is very fast and very simple to use…just check it out.
Fast Stone Image Viewer is a simple and fast image viewer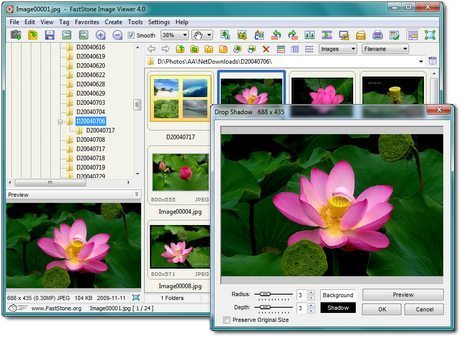 2. What's to like…what's not to like
2.1 PRO:
Very, very, very fast ! As simple as that.
No need to import folders. You just open your folder structure and you see your pictures.
Image editing functions available in image full view. This makes for very fast editing.
Very easy to use tool for removing red eyes
Support for viewing videos
Image resizing and cropping tool is very precise. Very easy to crop and re size to precise measurements. Bulk resizing of images available via the Email function.
Great support for e-mailing pictures. Not only via email client but also as compressed images that can easily be attached to an email.
2.2 CON:
The only real con is image quality. Some darker pictures appear to be noisy even though in other image viewers they look great.
Bulk resizing available only via the email functions. It took me a while to figure out where bulk resizing was. I thought it wasn't available…until I tried the Email function.
Tagging feature is confusing. Fast Stone Image viewer does not support adding image keywords. The tagging feature is more like selecting favorite pictures by checking a check box in each thumbnail image. There is not tag list or tag "cloud". FastStone does not support IPTC or XMP.
3. Conclusion:
This is the best Image Viewer I have been using. I recommend it without any reservations. Try it out for yourself, you won't regret it and…it won't cost you a dime. This program is not equivalent to Photoshop and its image editing functions are very simple. However, this program is intended to be a fast and simple Image Viewer and it excels at that?
What image viewer are you using?
I am always interested in finding out what software you are using to organize, view and edit your pictures. So, please add a comment and share your own experience.
Start organizing now using detailed, step-by-step instructions and videos:
Personal Coaching (closed) Private Lessons Independent Course
Reference book Basics book Picasa book