For Windows, there are quite a few options when you are looking for free software to help you organize your photos. However, these free tools, while quite capable, they are limited in features. And there is not one tools that has all the features I am looking for, so I tend to use more than one to accomplish what I need in the most efficient way.
Enroll in my Independent Course and start organizing your digital photos now.


6 video modules

- over 30 videos containing step-by-step instructions for Windows or Mac programs like Lightroom, ACDSee, Picasa and Photos.


All my e-Books for free

- all my products are included.


Completely self-paced

. Learn at your own pace and take as long as you want until you learn how to organize your photos. More info
What to look for when picking digital photo management software?
When I look for photo management software I look for these basic features:
Support for photo transfer from cameras and phones. This means that the software creates subfolders for each day when pictures were taken.
Folder management capabilities means a fast and easy way to create, rename and move folders.
Metadata management means at least the ability to add keywords inside image files. Any visual way to help with organizing keywords is a great help.
Support for selecting and grouping best photos. I do this task all the time so any support for tagging, starring or color coding my best photos is a must.
In addition, geotagging and face recognition are very useful features to have, but they are not must haves.
XnView
XnView is the most complete photo management software program you can find for free. If you get used to it and can learn to use it for managing your metadata, XnView will serve you well. However, do not expect great photo editing features or a simple and intuitive userinterface.
Pro
: Actively developed. Support for photo transfer. Full metadata editing support including EXIF, IPTC and XMP. Supports photo tagging, rating and color labels for photo selection. XnView has support for geotags and has reverse geocoding available as well through a third party application.
Con
: Older look and feel. Slower metadata search since it does not use a database. User interface is cumbersome especially for adding keywords to photos.
If you are interested in XnView you can read my articles about XnView.
FastStone Image Viewer
FastStone is my favorite free photo management software. I use it often for transferring photos and working with folders. It has some nice cropping and photo editing tools but the lack of metadata editing support, limits its functionality.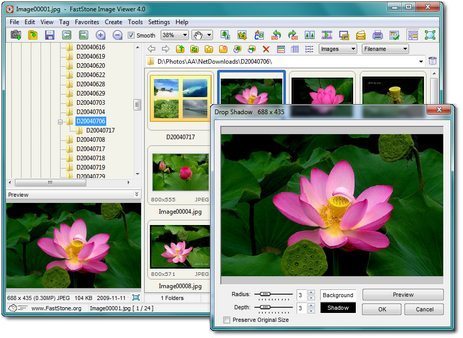 Pro
: Actively developed. Fast folder navigation. Simple and efficient transfer from cameras. Batch renaming. upport for photo selection.
Con
: No metadata editing support. No face recognition and no geotagging. Basic photo editing only.
If you are interested in FastStone you can read my articles about FastStone.
IrFan View
IrFan is a fast image browser that can help you see large photo previews very fast. This can be useful when browsing through a large collection of photos. However, lacking the other important features doesn't make me use IrFan much.
Pro
: Actively developed. Supporting lots and lots of image formats. Fast large size image previews and navigation.
Con
: Photo transfer support is very limited, No metadata editing support. No face recognition and no hero tagging. User interface seems older and more cumbersome to use. No support for photo selection.
Picasa
Normally, I would list Picasa first because of its excellent JPEG image processing and organization features. None of the other free photo management software come close to Picasa's polished user interface, image metadata capabilities, geotagging support and superb face recognition.
However, Picasa is no longer supported by Google, which means there is no further development. While Picasa continues to run fine, this means when new metadata standards are being released Picasa will remain more and more behind.
Pro
: Greate user experience. Non-destructive editing. Keyword editing support. Amazing face recognition features. Great integration with Google Maps for geo tagging. Good photo editing features. Good support for photo selection and virtual folders. Works on the Mac as well.
Con: Not developed anymore. No metadata editing support for any other fields besides keywords. Weak support for RAW files.
If you are interested in Picasa you can read my articles about Picasa.
What software should you use?
If you are already using Picasa and have learned how to use it, my advice is to stick with it until you start finding things that do not match newer image metadata standards. This means that Picasa will keep you going for a while.
If you do not want to pay for a complete solution, and want to stick with a free photo management program, I recommend you start with FastStone Image viewer to get started with your folders and when you start adding metadata you can move to XnView.
However, if you are starting to organize your pictures from scratch or you are looking for a more complete feature set, my recommendation is to purchase a professional photo management product like ACDSee Pro or Adobe Lightroom.
Essentials for organizing your digital photos
Here are the essential products and services I have come to rely on for many years to keep my media collection organized and safe. Even though these are
affiliate links
, I wholeheartedly recommend them.
Excellent Lightroom and Picasa alternative. If you need a cheaper and simpler photo manager then ACDSee Photo Studio for Mac (save 40% until Aug 9th) or ACDSee Pro for Windows (save $40 until Aug 9th) is my preferred solution for organizing all my media. It has a very fast browser, great image editing and it's simple to use.
If you do a lot of image editing like I do, I recommend using Adobe Lightroom Classic CC via the annual Adobe Creative Cloud subscription. Lightroom has best photo editing capabilities even though it comes with a steeper learning curve. If you do image editing, Adobe Lightroom is my favorite.
I recommend Backblaze Cloud Backup for affordable & reliable unlimited cloud backup. I have been using Backblaze for backing up all pictures & videos for more than 5 years now. All my invaluable digital memories are safe and secure. This is the best solution especially if you have a large quantity of media files.
Use a reliable & affordable external hard drive for backing up everything on your computer. It is absolutely essential for keeping all your memories backed up and safe.
Start organizing now using detailed, step-by-step instructions and videos:
Personal Coaching (closed) Independent Course Private Lessons
Reference book Basics book Picasa book